Pictures are from Photobucket. Saja nak share funny signs, teringat masa kerja buat advertising dulu.. tapi tak adalah pernah buat signs nakal macam ni...




So parents.. jaga-jaga jangan sampai anak terabai pulak..
..eee.. ngeri..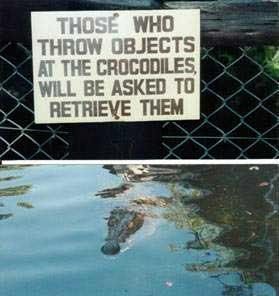 errr.. cubalah kalau berani.. sekali kena ngap baru tau!!
tegas + pedas... huhu.. Dulu kalau belajar design mengeluh susah, pensyarah akan ingatkan "kita buat dia ke dia buat kita?"
Faham-faham.. itu mesin sajakan..
erk? Used cows? Ada jugak ek..
Fuh... yang ni lagi sinis dan pedas untuk smokers... Orang yang buat sign ni bukan sayang kat smokers tu pun, lagi sayang kat lipas-lipas.. Hahaha.. 5 Stars for this sign!
Sekadar santai-santai dan berhibur dengan entri ni... don't be serious all the time...